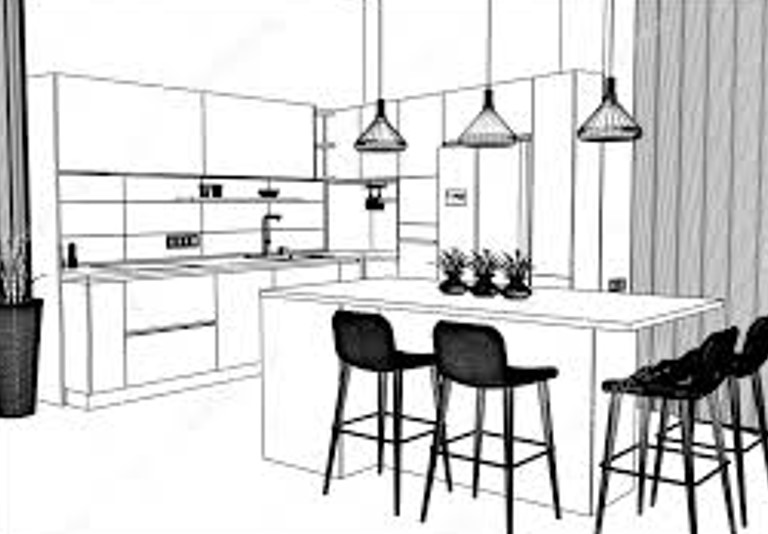 Building a new kitchen to my mind is easier then renovating an old one. However, both requires careful planning and execution. It is very important to start working on the kitchen idea as soon as you begin the construction and plan accordingly. Some of the things that we need to keep in mind are as follows
We need to complete basic civil work like flooring, false ceiling, electric and plumbing points before we start the kitchen work. Try using Anti Skit tile of good Quality for Kitchen.
To ensure correct electric and plumbing points, it's very important to work on the kitchen layout and have a proper design in place. Based on the design we need to give electric points in following places

Ensure there is a LED points left behind each of the overhead cabinets. A single switch should be enough to operate each of these points.

Please measure the exhaust area and keep an electric point at the height of 2000mm or 80 inches from the finished floor height. This should be a 16 Amp point.

Please ensure that you have enough plug points for small appliances on both the side of the cooking area and also back wall if you have one.

Please insure electric points for all the inbuilt appliances like Oven, Microwave, Dishwasher, HOB, Inbuilt or overhead water purifier and crusher.

If there is a provision of hot water make sure you have a electric point for Geyser. Also think about placing the geyser outside the kitchen if possible.

Make sure your plumbing line is well defined. You would also need a point for Dishwasher and Water Purifier.

Please do the basic tiles work on the walls. The tile has to start at 36 inches above the floor and end at 4 ft Height. Kindly refer to the attached drawing for better understanding.

If you have a bungalow or live in ground floor or has a free space behind the kitchen, try and keep the cylinders outside the kitchen. You can camouflage the area with climbers or some artificial structure.
Make sure that the outlet for exhaust is as as close to exhaust hood as possible. Best is to have it just behind the exhaust hood. If that is not possible then try to have the closest outlet. This will increase the efficiency of the exhaust.
Try to form a good working triangle while designing your kitchen. Means your HOB, Sink and Ref should form a layout of a triangle.
Lastly please ensure that there is good open windows in the kitchen. This not only give natural light but also keeps the kitchen airy and free from bacteria.
Happy Cooking J !!
For More info contact WoodStock Kitchens, Siliguri at 0353-2540616 or email at woodstock@outlook.in